June 30, 2020 / recipes / recommended
Rise and Shine, Everybody!
Now that many people are going back to work and getting back into their pre-quarantine routines, it is important to keep up with our eating habits and to strengthen our immune systems through our food!
Stephanie, our Dietitian, recommends starting the day with a nutritious and filling breakfast, and there's nothing better than a sweet bowl of oatmeal to fill us up before a busy day! Paired with blueberries, walnuts, and banana, this quick meal is packed with immunity-boosting antioxidants, protein and potassium. Talk about a jump start!
Bon appétit and stay safe everyone!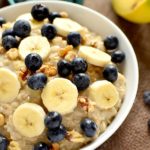 Ingredients
1- 1 ½ cups of water 
2- ¾ cup of rolled oats
3- ⅛ teaspoon of ground cinnamon
4- Pinch of kosher salt
5- ¼ frozen blueberries
6- ½ sliced, banana 
7- 2 tbsps of chopped walnuts
8- 1 tbsps of maple syrup, or to taste
Instructions
1- Bring your water to a boil in a small saucepan. Add your oats, cinnamon and pinch of salt. 
2- Reduce to a steady simmer and cook, stirring occasionally, until oats are tender for about 5 to  minutes. 
3- Stir in frozen blueberries.
4- Top with banana, walnuts, maple syrup and your choice of milk or non-dairy milk if desired.
#Health #Recipe #Oatmeal #Immunity #Blueberries #Banana #Walnuts #Antioxidants
Source: Martha Stewart