December 8, 2017 / educational / recommended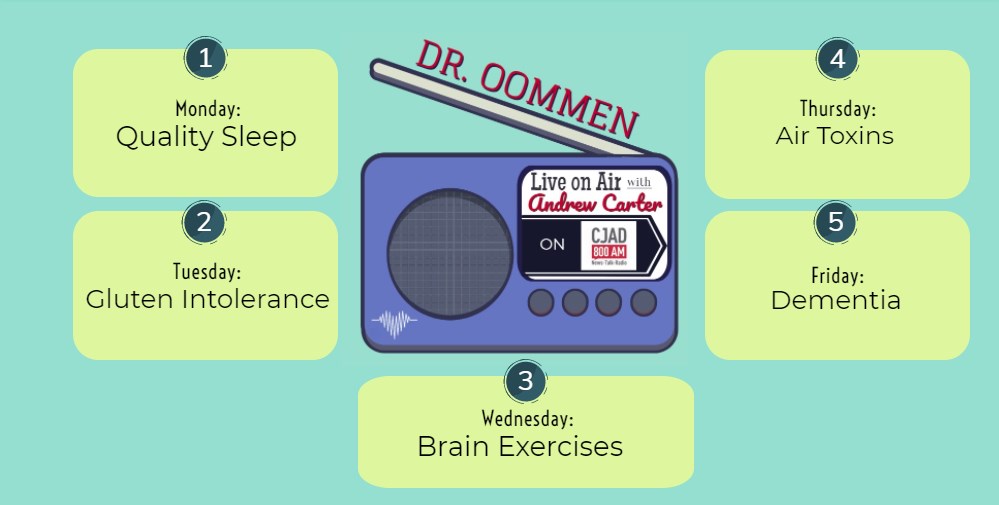 5 Health Tips – December 4-8, 2017
Monday December 4th, 2017:
Are you looking for ways to get a better, deeper sleep? Listen to Dr. Ashok Oommen explain how proper air ventilation might help you do just that!

Tuesday December 5th, 2017:
We have all heard of gluten intolerance; however, some of us still don't know what its real cause is. Find out by listening to this health segment!

Wednesday December 6th, 2017:
We all know about exercising and its importance, but are we forgetting about exercising our brain? Listen to Dr. Ashok Oommen speak about this and how it can impact our cognitive health!
Thursday December 7th, 2017:
Listen to Dr. Oommen explain how air toxins and pollution are affecting brain development, and find out who is suffering from this the most, as well as its future impact.
Friday December 8th, 2017:
The World Health Organization (WHO) estimates that there are currently 50 million people living with dementia and is expected that number to triple by 2050! Dr. Oommen lists tips to help YOU avoid this illness.